MICK RALPHS | BAD COMPANY
​
TCT50C, TCT35C, TCT100, GLS412, GLS212

"I´m all delighted with the Albion amps supplied by you. The TCT35C and TCT50C combos are two lovely, warm sounding amps, ideal for blues and rock in the smaller venues we are playing! Everyone who has seen and heard the Albion stuff here in the UK, say how well-built it is, and how good they sound."
​
HANDWIRED
35 WATT
TWIN CHANNEL
FX LOOP
​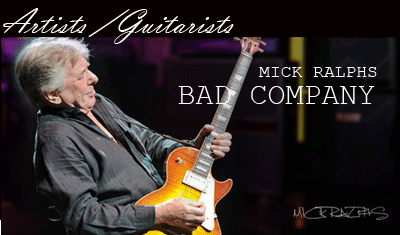 ASKE JACOBY | SANNE SOLOMENSEN, BILLY CROSS & everybody else​
​
TCT35C, TCT35H, GLS412, GLS212

"ALBION TOTALLY DOES IT FOR ME! SOUNDS
GREAT FOR EVERYMAN AND EVERY GIG OR STUDIO SESSION"
​
ANDY JOHNS | PRODUCER | LED ZEPPELIN, VAN HALEN, ROLLING STONES, CHICKENFOOT, JOE SATRIANI
​
TCT50C, TCT35H, TCT100, GLS412, GLS212

Andy explains everything here..
​
JEFF PEVAR | DAVID FOSTER, RAY CHARLES, JOE COCKER, CROSBY STILL & NASH
​
TCT50H, TCT35C, TCT100H, GLS412, GLS212

"Because I am constantly in the recording studio and playing live I enjoy a wide range of guitar sounds, depending on the style of music I am playing or recording. Albion makes incredible amps and they truly have a sound all their own. These amps rock like nothing else!"
Jeff Pevar
​
MITCH PERRY | ASIA, & various artists​
​
TCT50C, TCT35C, TCT100, GLS412, GLS212

"I love my Albion because it lets me be me. It enhances your sound and personality rather than covering it up."
​
Mitch Perry – Guitarist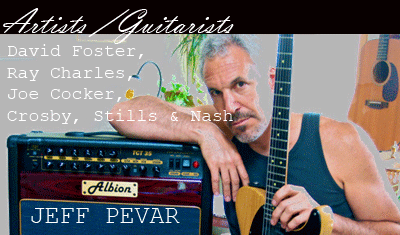 KENTA BRÄNNLUNDH | SPOTNICKS etc
​
TCT35C, TCT35H, GLS212


​
ANT GLYNNE | SLASH, MIKE OLDFIED...
​
TCT50H, TCT35H, TCT100H, GLS412, GLS212

"The best Amps around. And have have been touring and been a session guitarist for over 25years. I have played them all, and Albion meets all my requests."
​
TOMMY BOLAN | NYC, WARLOCK
​
TCT35H, TCT100H, GLS412, GLS212

1."LOUD...MEAN...AND RUDE...a GRINDROD GRINDER!"
2."Sonic Madness...The Most Alive Harmonics I have ever played thru"
3."Loud..Mean..Rude..Yet Sweet enough to Bring Home to Mom"
4. "Built like a Tank and Ready to Run You Over with Tone"
​
JONAS RENBO | ERIC GADD, OUTLANDISH, OMAR​
​
TCT50C
"This amp just works perfectly with all my different type of guitars, my hollow bodys and the semi acustics. It´s pretty rare for a guitar amp, to cope with everything.
​
First of all I love the clear and warm tone in the Albions amps. Since we nowadays plays with a minimun of volume on stage (for the joy of the soundguys ) , my TCT 50C even sounds fantastic with low volume. I control the warm crispy tone with the gain & drive knobs and keep the volume down to about 4 and the right sound is there !
With other amps you would normaly play very loud to get to that magic point, but not with this one! That I realy love."
​
MICK RALPHS | BAD COMPANY
​
TCT50C, TCT35C, TCT100, GLS412, GLS212

"I´m all delighted with the Albion amps supplied by you. The TCT35C and TCT50C combos are two lovely, warm sounding amps, ideal for blues and rock in the smaller venues we are playing! Everyone who has seen and heard the Albion stuff here in the UK, say how well-built it is, and how good they sound."
​
MICK RALPHS | BAD COMPANY
​
TCT50C, TCT35C, TCT100, GLS412, GLS212

"I´m all delighted with the Albion amps supplied by you. The TCT35C and TCT50C combos are two lovely, warm sounding amps, ideal for blues and rock in the smaller venues we are playing! Everyone who has seen and heard the Albion stuff here in the UK, say how well-built it is, and how good they sound."
​
MICK RALPHS | BAD COMPANY
​
TCT50C, TCT35C, TCT100, GLS412, GLS212

"I´m all delighted with the Albion amps supplied by you. The TCT35C and TCT50C combos are two lovely, warm sounding amps, ideal for blues and rock in the smaller venues we are playing! Everyone who has seen and heard the Albion stuff here in the UK, say how well-built it is, and how good they sound."
​
MICK RALPHS | BAD COMPANY
​
TCT50C, TCT35C, TCT100, GLS412, GLS212

"I´m all delighted with the Albion amps supplied by you. The TCT35C and TCT50C combos are two lovely, warm sounding amps, ideal for blues and rock in the smaller venues we are playing! Everyone who has seen and heard the Albion stuff here in the UK, say how well-built it is, and how good they sound."
​